Unlike web pages, which are usually built for navigation of information, landing pages are designed to drive a single goal – that is call-to-action (CTA). It's this feature that makes landing pages the best option for increasing leads as well as the conversions of your marketing campaigns.
But there's a limit to how many landing pages you can create per day or per week, right? Copies take time to write. Often times, you need more than one version for A/B testing. It's all time-consuming. Just because it takes time doesn't mean there's no way to speed it up. If you want to scale up your landing page game, you have come to the right place.
In this article, I will walk you through how to use Writesonic to generate multiple copies for landing pages at scale – with the blink of an eye. If you can use it to your advantage, your marketing game will never be the same.
What is Writesonic?
Writesonic is an AI-powered writing tool that is designed to help you create different kinds of marketing content at scale. It can be used to write product descriptions, blog posts, advertising copies, landing pages, and a lot more.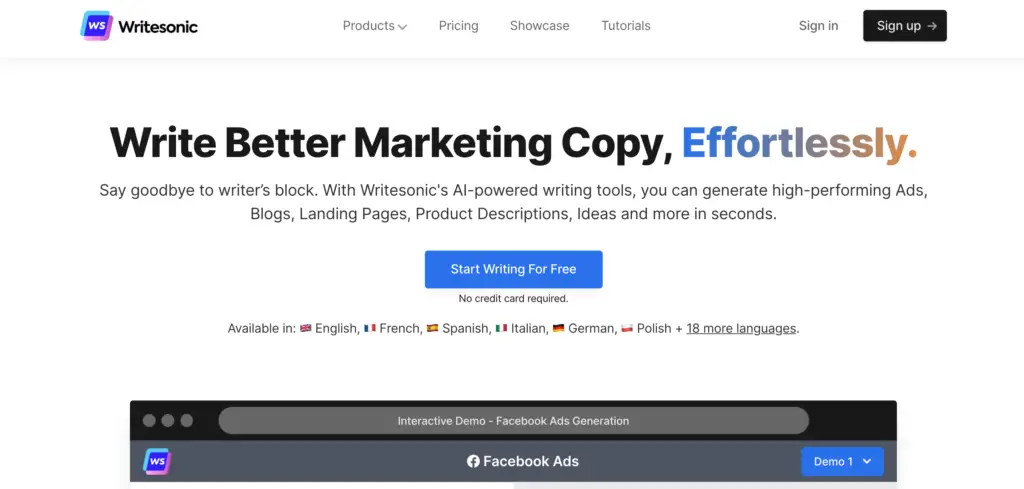 In other words, you can save a lot of time in writing your content. You can simply give Writesonic the parameters (such as keywords, phrases, or short product descriptions) you want it to follow, and it'll write what you want it to write.
Writesonic will inevitably help you save a huge amount of time and effort by writing more, and in less time.
What kind of marketing copies can Writesonic generate?
Writesonic is a marketer's goldmine. The options provided on Writesonic are given below:
| | |
| --- | --- |
| Types of Copies | Examples |
| Website copies | Landing Pages, Features to benefit, Headers, SEO Meta Descriptions |
| Digital ads copies | Facebook Ads, Google Ads, Linkedin Ads, Instagram Ads, Twitter Ads |
| Article/blog copies | Blog Ideas, Intros & Outlines, Content Rephraser & Expander, Article Summaries, Grammar Fixer, Readability Checker |
| Sales copies | Product Title, Product Descriptions, Product Features, Pain-Agitate-Solution, AIDA |
| Other copies | Press Releases, Email Copies, Company and Personal Bios, Startup Ideas, Growth Ideas, Product Names |
And for this article, I will only focus my discussion on how Writesonic generates copies for landing pages. If you want to learn more, read my other post on:
Writesonic Review: An AI Writer that Creates Articles Automatically
Writesonic landing page writer walk-through
Writing copies for landing pages has never been so easy with Writesonic. It works like a dream. And I was really amazed by the speed and the results. 
Earlier I was working on a project to promote a dog food delivery service through affiliate marketing. We wanted to set up a campaign to target pet parents through Facebook ads. Then we will send the traffic to a landing page where it directs people to sign up for a subscription.
I will use this case as an example to walk you through how to use Writesonic to generate the copies for the landing page. And you will also be able to see the results it populates.
Let's jump right in! 
After logging in, elect Landing Page from the main menu.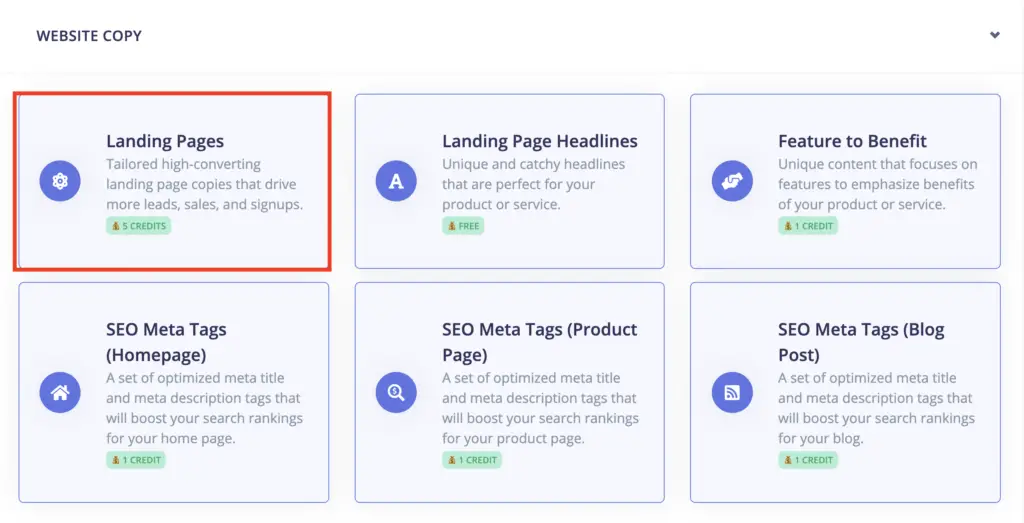 Once you enter the Landing Page interface, you will see everything you have to input to generate the copies. I included what I've entered in italics for your reference.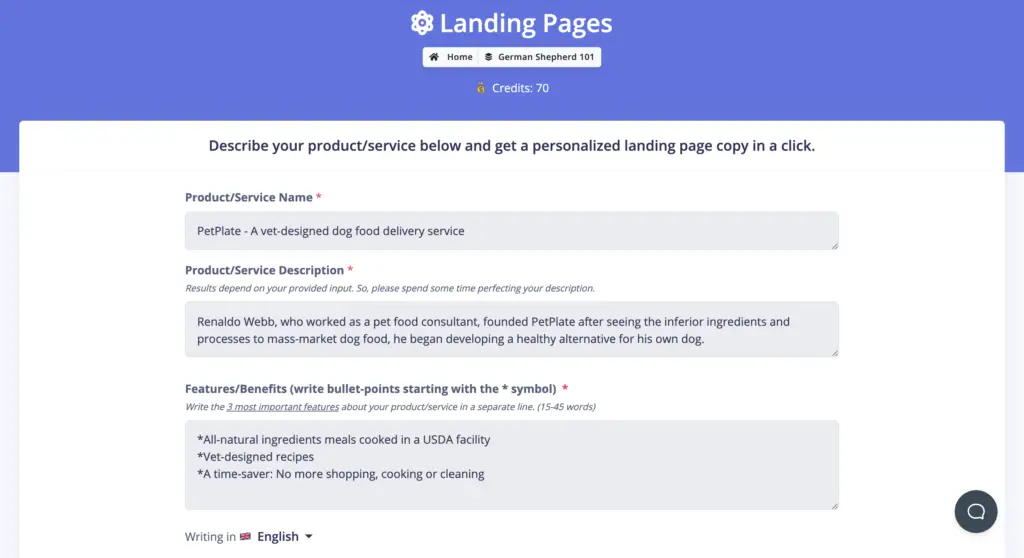 Product/Service Name – It is straightforward, just enter your product/service name. 
This is what I input:
PetPlate – A vet-designed dog food delivery service
Product/Service Description – In this part you should enter a detailed description of your product/service. You can tell the AI what is it about, who will use it and why is it so special. 
This is what I input:
Renaldo Webb, who worked as a pet food consultant, founded PetPlate after seeing the inferior ingredients and processes to mass-market dog food, he began developing a healthy alternative for his own dog. And since 2016, his company has delivered more than 10 million human-grade meals.
Features/Benefits – As described, you must write the 3 most important features about your product/service in a separate line. These titles will then be converted into a sales paragraph the forms the body of your pitch.
This is what I input:
*All-natural ingredients meals cooked in a USDA facility
*Vet-designed recipes
*A time-saver: No more shopping, cooking or cleaning
Five variations of landing page copies – within seconds
After you have finished your input with these 3 parts, all you have to do is hit the Generate Landing Page button.

And within seconds, the AI will generate FIVE variations of copies based on your descriptions above.
With a quick glance, the output is very impressive. The generated copies are embedded into a template that makes it look professional and legit. Click the slider to have a look of the different CTA on the top of each variation.
What I like here is that the mock-up itself is already good enough for use in the prototyping or ideation where you can let people visualize 60-70% of the end result.
As you can see, every variation follows the same format, in the order of:
A CTA box on the top of the page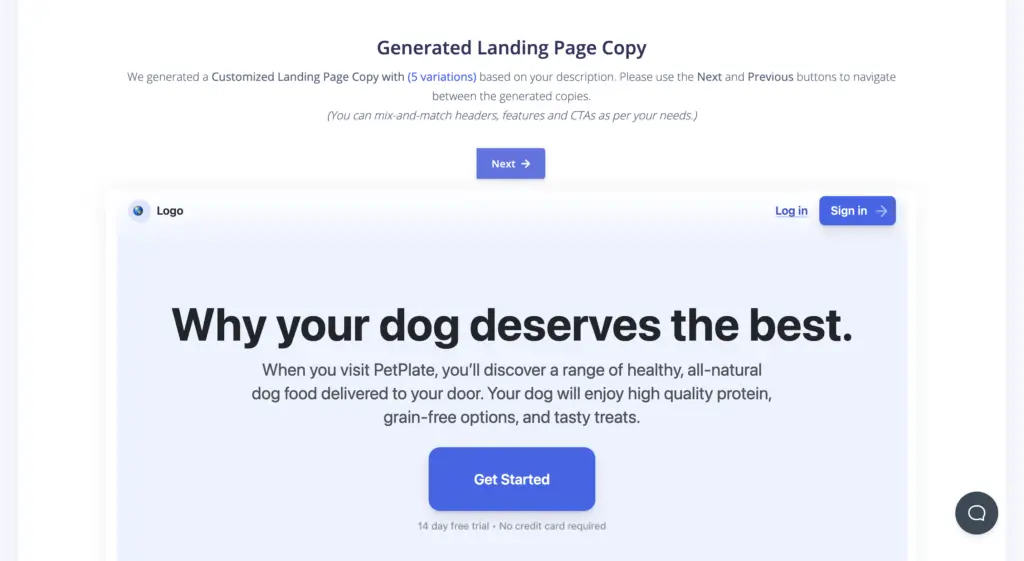 2. A title and description of your product/service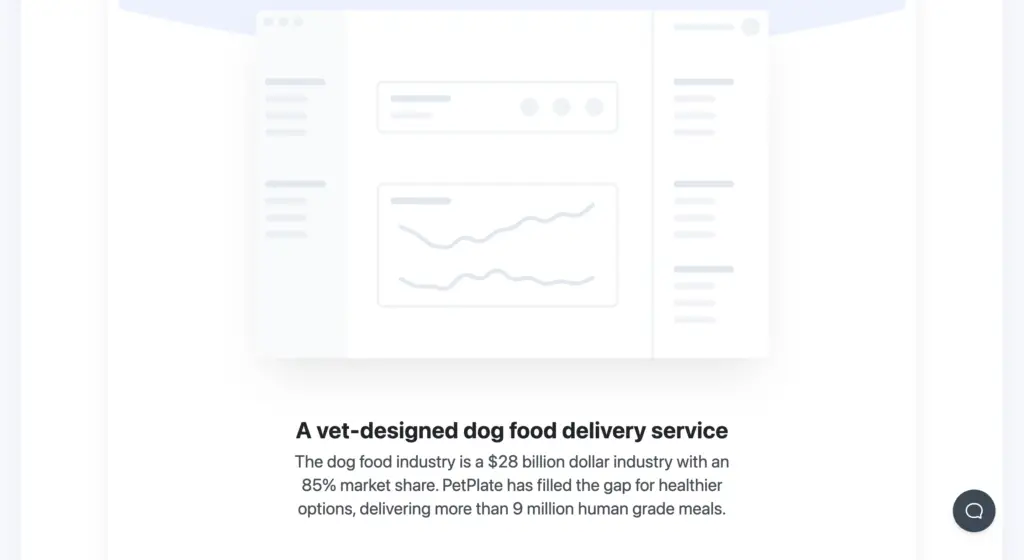 3. Three product features with a title and a short paragraph each.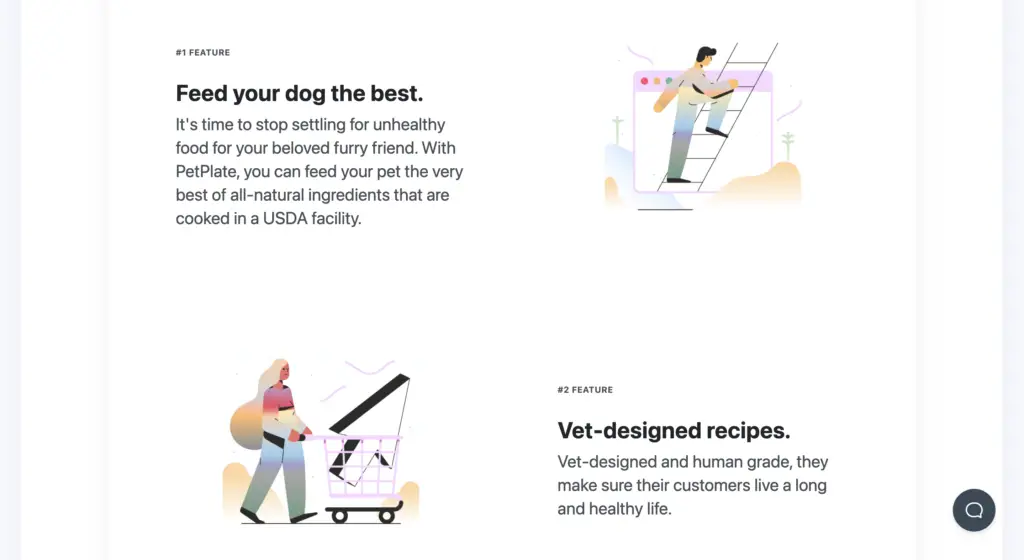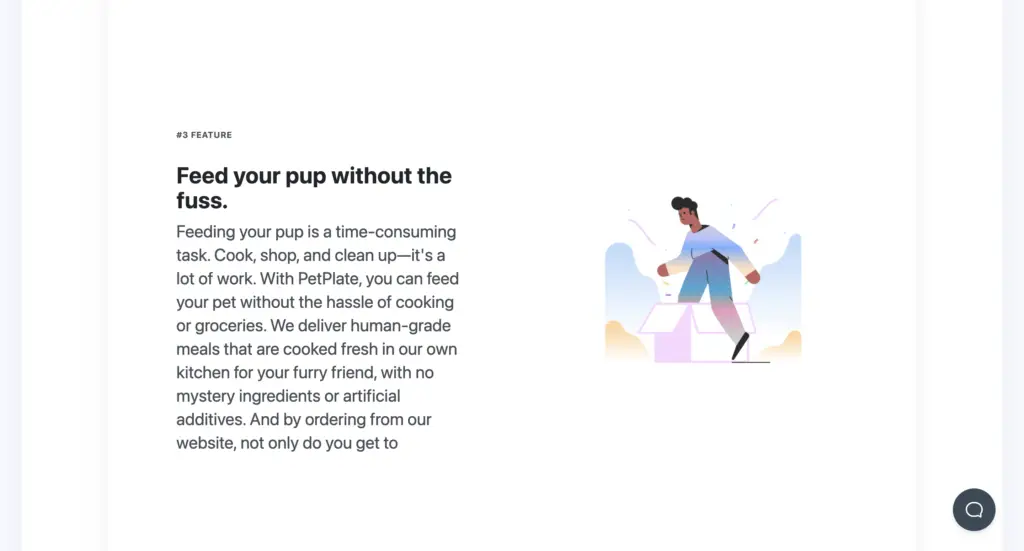 4. A CTA box at the bottom of the page.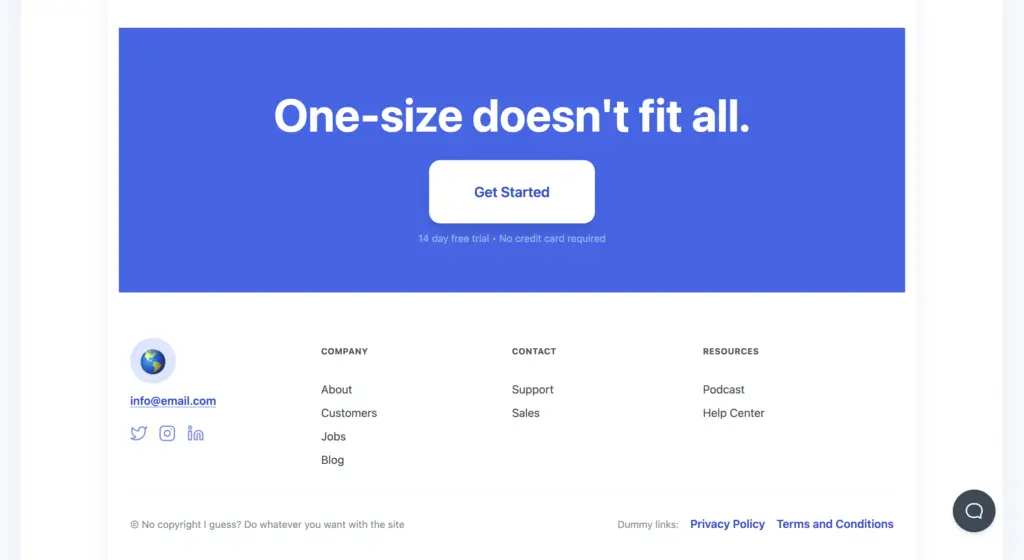 Pretty amazing, huh?
Click below to see the full HTML page of:
If you are not 100% happy with the individual result, with the five variations, you can mix-and-match titles, descriptions, features, and CTAs as per your needs.
Multiple ways to export the copies
There are a few ways you can export the copies for incorporating into your landing page builder.
Select the text on the page and use copy and paste.
Export the text into a txt file
Download the web page as a HTML/CSS/JS file
Use a unique shareable link

Why is Writesonic a game-changer for marketers?
If you have not taken advantage of the power of landing pages, you are falling behind.
The more landing pages you have, the higher your conversion rate. Having a range of landing pages will allow you to segment your traffic sources and tailor specific call-to-action for different segments of your audience. 
But as marketers, we have to juggle between tons of different tasks so it might be difficult to really sit down and get the multiple versions copies written.
Writesonic to the rescue. Here's why.
It's instant – and saves you a lot of time
With a hit of the button, you will get instant results. All you have to do is to nput the basic information of your product. I am sure it will take no more than 10 minutes to do if you've already had your business running for some time.
The results are impressive
Let the results speak for themselves. I am impressed with the fact that WritesonicI can put together the copies in form of a mock-up page, with just a few lines of information. 
It's too easy – and hard to believe 
With Writesonic, you get 5 variations of landing page copies which would normally have taken you hours to write. The best thing is that 5 versions are good enough for you to mix and match and come up with the perfect one.
Deploy your A/B testing at scale
A/B testing or split testing is a great method to use when testing landing pages. It will help you to determine what factors drive conversions and what elements of your landing page have no effect whatsoever. With the output of 5 versions at one go, you will have no shortage of elements to test.
Additional features I wish Writesonic could have
Instead of choosing between one version over the other one page after another, I wish I could mix and match the different elements directly on the interface.
For instance, it would be nice if I could choose the top CTA from version 1 and feature #1 from version 5 and put them together to produce a final version.
Another nice to have feature would be having different styles of landing page templates to choose from, such as sport, business, hobby, education, charity products, and so on.
How much is Writesonic?
Writesonic offers 4 levels of plan with different amounts of credits available.
And for each plan, there are limitations on whether your credit can be redeemed for its Basic Features (e.g. landing page) and Advanced Features (e.g. AI Article Writer or Blog Intros).
 To give you an idea, producing 5 variations of landing page copies requires 5 credits. AI Article needs 1-7 credits, depending on how long the article will be.
The Free Trial plan comes with 10 credits.
The Starter plan is $25 per month (billed yearly) and comes with 75  credits on its Basic Features and 75 credits on its Advance Features.
The Profession plan is $89 per month (billed yearly) and comes with unlimited credits on its Basic Features and 120 credits on its Advance Features.
The Business plan is $449 per month (billed yearly) and comes with unlimited credits on its Basic Features and 1200 credits on its Advance Features.
Writesonic sometimes has up to 55% off offer. And even if you sign up and don't like it, you can cancel any time, no string attached.
Over to you
Writing copies for landing pages is only one of the many tools that come with the Writesonic package. Without a doubt, this function itself will up your marketing game like walking on clouds, not to mention the others. That said, Writesonic is an incredible tool that can help you create content more quickly and easily. And it's your choice to decide whether to stay behind and give it a give to see if it works for you.