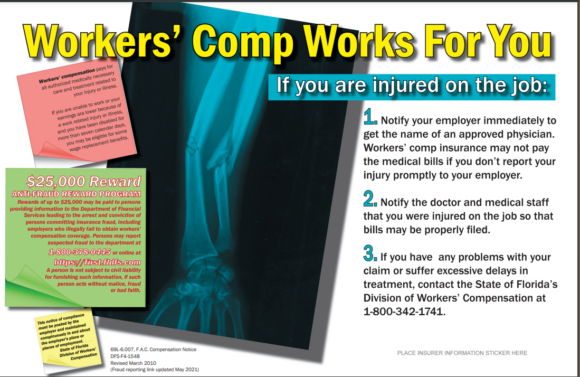 Workers' compensation insurers in Florida will no longer have to ship posters to their insured employers if a rule change is finalized this summer.
The familiar "broken arm poster" has been a fixture in workplaces for decades, letting employees know about injury benefits and encouraging them to report fraudulent claims. Insurers have long had to print and ship the posters to employers.
Under a rule drafted by the Florida Division of Workers' Compensation, insurance carriers would soon be able to send the "Workers' Compensation Works for You" posters via email, ready to print. The employer would be allowed to post the compensation info separately or as part of a labor law poster. Employers could also choose to attach the anti-fraud information on a separate sheet of paper, the proposed rule change notes. The poster is available in English and Spanish.
If anyone requests a hearing on the proposed changes by May 26, the DWC will hold a hearing on June 7. Public comments will be accepted through May 26. They can be sent through the Florida Administrative Register site at https://www.flrules.org/Help/newHelp.asp.
The division proposed similar changes last fall, but would have allowed a smaller, letter-sized poster. But officials in December decided that the smaller poster would not be visible enough to workers, and withdrew the plan. The revised rule stipulates an 11 x 17 placard.
More information is available from DWC compliance chief Pamela Macon, at Pamela.Macon@myfloridacfo.com.
Topics
Florida
Was this article valuable?
Here are more articles you may enjoy.
The most important insurance news,in your inbox every business day.
Get the insurance industry's trusted newsletter