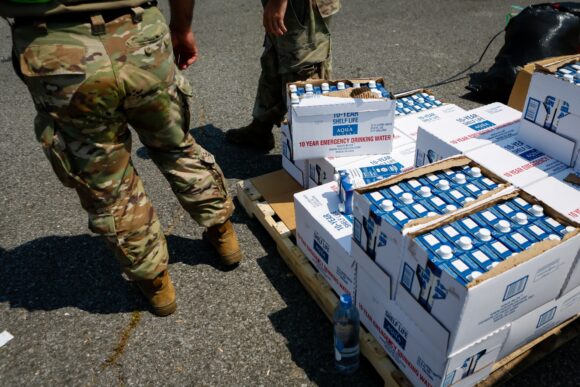 New You can now listen to Insurance Journal articles!
A new fund is betting on companies that help with recovery from natural disasters as climate change raises the risk of hurricanes, wildfires and other catastrophes.
The Procure Disaster Recovery Strategy ETF is debuting Wednesday under the ticker FEMA. Tracking an index, it holds companies involved in risk mitigation and reconstruction, including those that provide power generators, construction services and waste management.
It invests in those that contract with government agencies for recovery efforts, such as Jacobs Engineering Group Inc., and companies that supply individuals with home improvements tools, such as Home Depot Inc. and Lowe's Companies Inc.
Global economic losses from natural disasters reached $270 billion last year, according to a report by reinsurance giant Swiss Re. As climate change intensifies the frequency and costs of natural disasters around the world, the companies in the fund will see growing demand for their products and services, said Andrew Chanin, co-founder of ProcureAM.
"They're the ones we absolutely need in many cases to get us back to our way of life before these disasters," he said. "I think it's important that these groups of companies are classified."
FEMA, which has an expense ratio of 75 basis points, is Procure's second ETF. Their first, the Space ETF (UFO), also revolves around a theme.
Thematic funds have been gaining in popularity. In 2021, investors poured nearly $49 billion in such ETFs, roughly as much as the two prior years combined, according to data compiled by Bloomberg Intelligence. They have seen about $4 billion in inflows so far this year.
Photo: Members of the National Guard next to boxes of water at a distribution center after Hurricane Ida in New Orleans, Louisiana, U.S., on Thursday, Sept. 2, 2021. The electric utility that serves New Orleans has restored power to a small section of the city after Hurricane Ida devastated the region's grid. Photo credit: Eva Marie Uzcategui/Bloomberg
Copyright 2022 Bloomberg.
The most important insurance news,in your inbox every business day.
Get the insurance industry's trusted newsletter