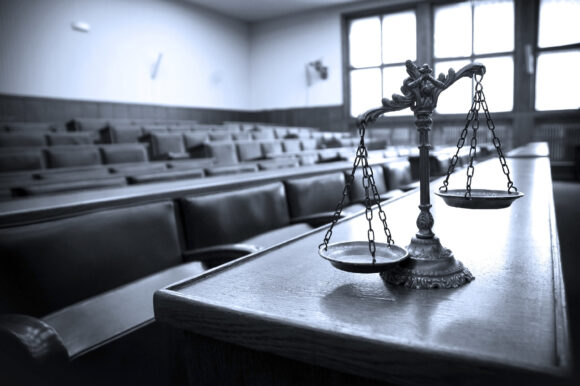 The owner and operator of an Arlington, Massachusetts-based insurance agency has been convicted by a federal jury in Boston of fraudulently receiving government disability benefits.
Patrick Quinn, an ex-Marine who said he was disabled due to several service-related physical injuries and post-traumatic stress (PTS) disorder, was convicted on April 12 of two counts of theft of public funds and two counts of making false statements. The guilty verdict came after a six-day jury trial.
According to the U.S. Attorney for Massachusetts, Quinn was arrested and charged in December 2019. According to prosecutors, since January 2012, Quinn has stolen more than $420,000 in benefits from the Department of Veterans Affairs (VA) and the Social Security Administration (SSA) by falsely claiming that he was unable to work due to a disability, when in reality, he owned and operated his own insurance agency.
Prosecutors said evidence presented at trial indicated that Quinn was self-employed as the owner and operator of Shannon Francis & Quinn Insurance, which later became Quinn Group Insurance Agency, since at least March 2003 – contrary to his claims to the VA and SSA. Quinn also served as the president, treasurer, secretary and director of Insurance Management Consultants, Inc. from 2000 through 2007, despite telling the VA and SSA that the company fired him in 2005.
In his defense, Quinn's lawyers argued that the VA and SSA regulations that prosecutors relied upon are unconstitutionally vague, debatable and uncertain as to what constitutes "substantial gainful activity" and that the regulations fail to give notice to a veteran like Quinn of how they might apply to his situation.
Quinn's lawyers have petitioned for an acquittal and have indicated they will be asking for a new trial.
Prosecutors told jurors that while claiming disability, Quinn operated his insurance firm and regularly received payments ranging in amounts of $6,500 to $15,000. They said he grew his business significantly through acquisitions of nine smaller insurance agencies at various times between 2012 through 2019.
Prosecutors provided a timeline of Quinn's benefit claims. In October 1995, shortly after being discharged from the U.S. Marine Corps, Quinn applied and was approved for disability compensation benefits with the VA based on a series of physical injuries and, later, post-traumatic stress disorder.
In March 2005, Quinn applied for Individual Unemployability (IU) benefits with the VA, which are paid to individuals who are unable to maintain substantially gainful employment as a result of their service-connected disabilities. In the application, Quinn claimed that his PTSD prevented him from securing or following any substantially gainful occupation and that he had become too disabled to work.
In support of his application, Quinn submitted a letter from his purported final employer, Insurance Management Consultants, Inc., claiming Quinn was let go due to his erratic behavior and was no longer employed at the firm. While receiving IU benefits, Quinn completed and returned four VA employment questionnaires, in each of which he attested he had not worked during the previous year, according to prosecutors.
Similarly, in November 2005, Quinn applied and was approved for disability insurance benefits with Social Security, this time claiming he had become unable to work due to his disabling condition in September 2004.
In June 2006, Quinn applied for child's insurance benefits, which are paid to the dependent of a disabled individual receiving disability insurance benefits, on behalf of his minor child.
Social Security beneficiaries are obligated to report if they return to work to the SSA. In May 2018, Quinn reported to the SSA that he had not worked since May 2006. The SSA continued to pay benefits to Quinn and his son based on this report.
Attorneys Tracy A. Miner and Christina N. Lindberg, of the Boston firm Miner Siddall, represented Quinn.
"This is not a typical benefits fraud prosecution," Quinn's lawyers wrote in seeking acquittal. "No one disputes that Defendant Patrick Quinn is a military veteran suffering from a number of significant disabilities and for years received specific service-connected disabilities that the VA evaluated and rated based on their severity and impact on Defendant's ability to function. The regulations on which this prosecution hinge involve whether or not he was engaged in 'substantial gainful activity' and are unconstitutionally vague, highly debatable, and so uncertain that people of average intelligence are forced to guess at their meaning."
U.S. District Court Judge Richard G. Stearns has scheduled sentencing for Aug. 17, 2022. The charge of theft of public funds provides for a sentence of up to 10 years in prison, three years of supervised release and a fine of $250,000 or twice the gross gain or loss, whichever is greater. The charge of making a false statement provides for a sentence of up to five years in prison, three years of supervised release, and a fine of $250,000 or twice the gross gain or loss, whichever is greater.
Source: U.S. Attorney for District of Massachusetts
Topics
Fraud
Massachusetts
Interested in Fraud?
Get automatic alerts for this topic.